We offer a variety of routes which are dependent on both group level and the intensity of previous and future rides with the objective of giving our riders different routes around the island of Mallorca. Groups one to four will always stop at the same café stop, to give riders the opportunity to catch up with friends/club mates or to change groups if necessary.
Our training camps generally start with a relatively gentle ride to Petra; before we increase the length of ride on our next day, with perhaps the option of a climb on the way home; our third day's route will probably involve one or two significant climbs; then it is a relatively easy day for a leisurely café stop. Towards the end of the week we consider requests before our leaders have a rest day on Saturday when most of our customers are arriving or leaving.
Some of our key rides are described in detail below:
Petra
'All Roads Lead to Petra' is an expression often uttered by our riders particularly those who have been coming on our various camps over the years. And with good reason, as Petra is situated in the middle of the island and can be accessed from just about anywhere on the island, given a reasonable level of fitness and stamina. From Alcudia or Puerto Pollensa we can either ride along the coast road past Can Picafort and turn right inland towards Petra or take the Marsh Road to Sa Pobla and then cycle via any number of different villages to reach the square in Petra where, on a sunny day, you will be met with a village that has turned itself over to meeting the needs of cyclists from all over Northern Europe. Cakes, baguettes or a full blown meal can be washed down with cold drinks, coffee and other hot drinks. For the first time visitor from the United Kingdom, it is a sight to be beholden – so many cyclists, coming from all different directions, enjoying a café stop and being welcomed with open arms.
The Mick Potts
Our signature ride is the 'Mick Potts' and was the favourite ride of one of the April camp stalwarts. The ride can be ridden clockwise or anti-clockwise from either Alcudia or Puerto Pollensa. Clockwise we take a relatively easy route out to Santa Maria, where we will stop briefly for a coffee and top up our bottles and bars for the hard work that is about to come. On leaving Santa Maria we head north in the direction of Bunyola before heading east to pick up the 7km climb to Valdemossa. After regrouping we descend into Deia for a well-earned lunch at the workman's café, essential to for the next stage of the ride. After descending into Soller we then embark on final third of this 150km ride. This entails the climb to the tunnel by Puig Major, the highest point the public can ride on the island. After a brief stop for photos and energy bars, it is all downhill you would think. Don't be fooled, after a descent past the reservoirs there are some tough undulating kilometres to negotiate before reaching the monastery at Lluc and to begin the final descent into Pollensa, but even then you will be pedalling those last few kilometres before regrouping for the wind down back to the hotel, knowing that you have completed an epic ride of approximately 150 km and 1,800 meters of climbing.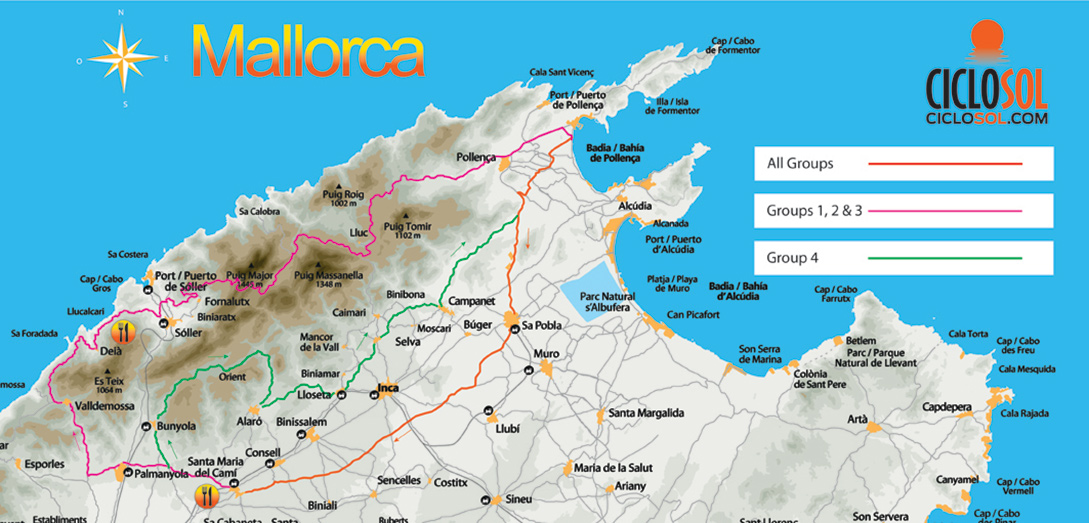 Sa Colobra
On paper a very simple ride out of 50km and turn round and ride back the way you came. But unless you are an expert cartographer you will not appreciate the twists and turns of the road down to Sa Colobra until you see them. And your legs will not thank you as you turn around to ascend the 650m you have just coasted down. Unless you have the features of a whippet and your legs have muscles similar to Popeye's biceps, this will take you the best part of an hour to get back to the top. But the sense of achievement you will feel at the top is indescribable. This ride is guaranteed to make even the most miserable of riders happy on the way home.
Randa and San Salvador
Two rides of a similar nature, a relatively flat ride of at least 120 km (depending on group) with a tough climb of about 5km up to a height of 500m, where you will be rewarded with magnificent views of the island whilst enjoying your lunch.